What is Infrared Thermography?
Infrared (IR) Thermography is a non-destructive technology that provides instant visualization of thermal performance. Our FLIR T640 infrared camera will expose thermal anomalies and quantify them with precise non-contact temperature measurements. Thermal anomalies are automatically documented in seconds and the data is then interpreted within a professional IR report.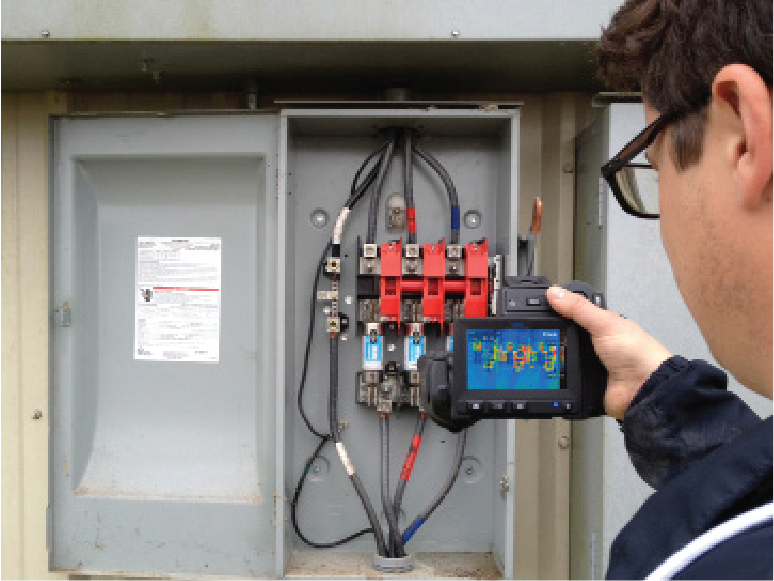 ELECTRICAL PREDICTIVE MAINTENANCE
High temperatures may indicate unnecessary electrical resistance, failing components, ground faults, short circuits or other common problems in electric equipment that can lead to expensive or even catastrophic failures.
MECHANICAL PREDICTIVE MAINTENANCE
High temperatures indicate excessive electrical resistance, worn components, lubrication failure, alignment, overloads and other common mechanical problems. By testing the operation of your systems in 'real time,' our inspections can help you understand the practical impacts of emerging component problems.
BUILDING ENVELOPES
This process identifies air and moisture leaks which lead to energy loss. IR detects these deficient areas in buildings so that repairs can be made. Repairing leaks helps reduce operating costs, increases energy efficiency and reduces greenhouse emissions.
MOISTURE & MOLD DETECTION
Although moisture and mold may not be visible, IR technology clearly reveals problem areas. As moisture evaporates, the surface area is cooled, providing a surface temperature differentiation needed for IR detection. IR moisture & mold surveys provide information needed for immediate remediation.
FLAT ROOF INSPECTION
IR inspection pinpoints areas of wet insulation, leaks or missing/insufficient insulation on flat roof surfaces. Pinpointing leaks for repair can result in significant cost savings and turn a roof replacement into a less costly roof repair.